Stafford Township Historical Society
---
Concert Schedule
---
Summer Concert Series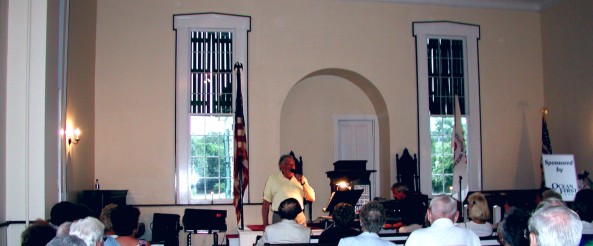 Gene "Geno" Galanti
(2002)

Stafford Township Historical Society started the concert series back in the '90s as an outreach to the community to show what we are doing for the area through demonstrations and presentations before each concert.
The original concerts were outdoors in front of the Train Station in Heritage Park. After three years of hot, muggy days... sudden thunder storms and the vicious mosquitoes, we moved the concerts indoors to the Historic Baptist Church (Cultural Center) where it stayed until 2006.

Conaghan Family
(2007)

Due to overcrowding and unstable timbers, we could no longer have the concerts in the church so we searched for a new venue which took the form of the Stafford Township Arts Center. This was a fabulous find for us because it afforded us ample seating (over 800 seats) and a stage which helped us look like a professional team. The high-tech sound and lights there also helped us with our pre-show presentations.

Unfortunately, in 2011, STAC was being completely overhauled through the summer so we could not hold any of our concerts there. Also, the comfortable space that STAC provided allowed us to grow so big that none of the smaller venues could hold us anymore. (unless we moved outside again)

Thank God (literally and figuratively) that St Mary's of Manahawkin stepped in and allowed us use of their Parish Center for 6 shows which we are extremely grateful.

But in 2012, we found ourselves back in the fresh air of the Manahawkin Lake Park in the brand new pavilion which was built as a replica of the one torn down in the 1950's.

The 2013 concerts will again be held at the Manahawkin Lake Park in front of the lakeside pavilion on Manahawkin Lake. (bring bug spray)


Landsend
(2012)
Map to Manahawkin Lake area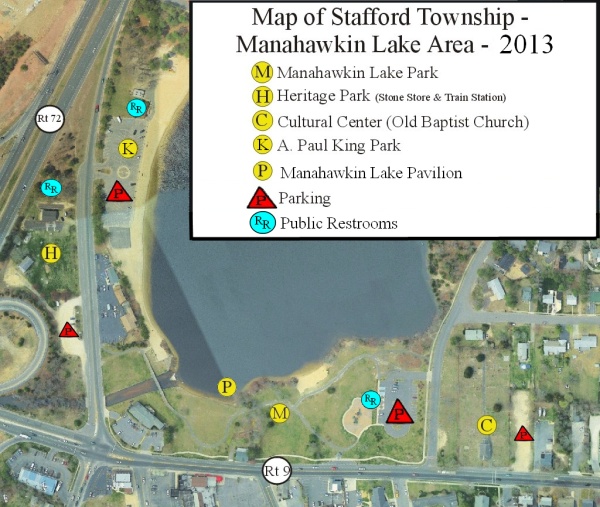 click on map for larger map
The pavilion is where the "P" is on the map.